SWUUWCon 2021:
Virtually Unstoppable
February 26-27, 2021
Virtual Zoom Conference
SWUUWCon 2021 has passed!
Thanks so much to all who attended our first ever virtual conference! Recordings of all the sessions are now available to all registrants. Please check the email you used to register for the password. If you have any issues accessing the videos, please reach out to jpurdy@swuuw.org.
ANYONE can still shop our 2021 vendors and browse the rest of this page to see what our SWUUWCon 2021 was all about!
After meeting each year since 1987 in person at our SWUUW conference, this year we will host our first virtual online gathering! Join us online via Zoom on February 26-27, 2021 as we examine the ways in which 2020 in particular has made us "Virtually Unstoppable." In addition to our main keynotes below, we will have more of the same conference content you've come to know and love: workshops led by our members and guests, musical entertainment, the Red Tent Room, vendors selling artistic goodies, and more!
Theme and Keynote Speakers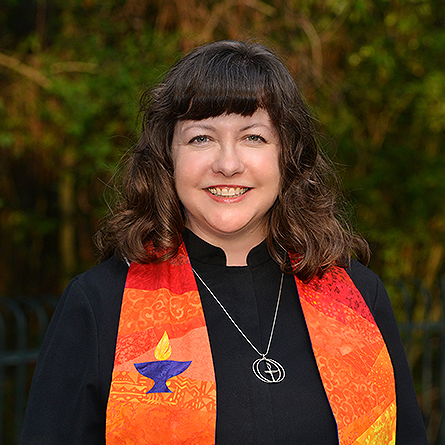 Rev. Joanna Fontaine Crawford
Keynote Speaker
The Reverend Joanna Fontaine Crawford was called to Live Oak Unitarian Universalist Church as parish minister in August 2014, after serving First Unitarian Universalist Church of Houston, TX, and The Church of the Larger Fellowship. She earned her Master of Divinity degree, summa cum laude, from Houston Graduate School of Theology where she was awarded the Academic Award for Excellence. A mother of 4, she lives in Austin with her spouse, Tom, and her family.
Living in "The Except"
We are living in a liminal space, the time between the Before Times and whatever comes post-pandemic. Examining another pivotal moment in world history, that of the London Blitz, provides surprising parallels to our current situation and offers hope for what we may build in the "After Times."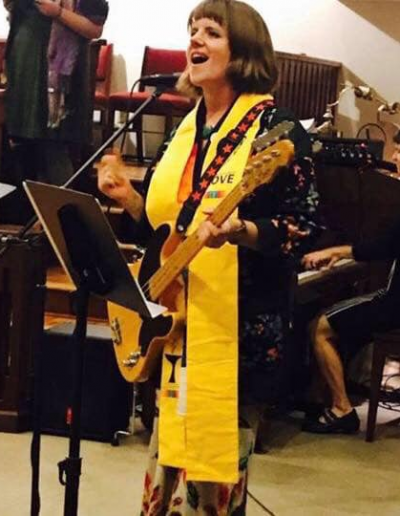 Rev. Erin Walter
Songs and Storytelling
Join the Rev. Erin Walter for an inspiring time of music — and the stories behind the songs. Rev. Erin (she/her/hers) is the singer/songwriter for indie group Parker Woodland and bassist in the queer/trans rock band Butch County. Winner of the 2017 UU Women's Federation sermon award, she serves as a board member for the Texas UU Justice Ministry and as the Affiliated Community Minister of Wildflower (Unitarian Universalist) Church in Austin. Her essay "Keep Singing" was recently featured on the UUA's Braver/Wiser blog. You can find more about Rev. Erin's music and ministry at ErinJWalter.com and ParkerWoodland.com.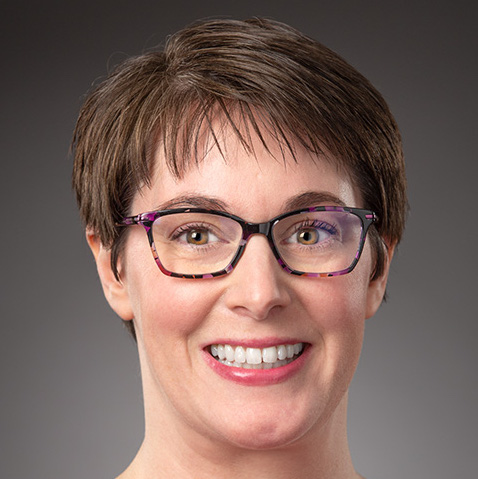 Lee will return as our Conference Chaplain after serving with us in that capacity at our Lafayette, LA and Hot Springs, AR conferences. Lee is currently a chaplain- in-residency at the Ascension Seton hospital system in Austin, TX. She is looking forward to her ordination as a UU Minister in September 2021. 
Workshops
Workshops will be held in Zoom "breakout rooms." When workshop sessions begin, we will instruct attendees to join their specific workshop breakout room. We have workshops in a number of categories, from art, to activism, to spirituality, to movement. Check out the full list and descriptions!
Schedule
SWUUWCon: Virtually Unstoppable kicks off with our opening ceremony Friday evening. Saturday morning begins with worship, followed by our keynote speaker and workshops. We'll end with musical entertainment Saturday night. At various points throughout the event, our Red Tent Room will be open for casual socializing.
Quilt Auction
A Fundraiser for SWUUW
SWUUW will auction this quilt at our Virtually Unstoppable conference on Saturday afternoon February 27, 2021. Proceeds from the sale will benefit the mission and programs of the Southwest Unitarian Universalist Women. All conference attendees will be able to place bids in the Zoom Chat Room during the live auction.
The quilt features a modern take on a traditional quilt design called Storm At Sea. Sized at 67″x77″ it is suitable for a twin single bed. Fabrics are 100% cotton batiks. Machine wash and dry. Pieced and sewn by Quilter and SWUUW member Mary Kirwin. Quilted in a lovely spiral pattern by Jessica Harper, Longarm Quilter. Valued at $350, the opening bid is $175. Bidding increments $25 or more.  Don't miss this opportunity to own a special quilt while supporting SWUUW!
Vendors
Throughout the conference we will pause to highlight an individual vendor and their wares. You can check out some of their featured products on this site, and if you are moved to purchase from them, you can click through to their websites to complete the transaction. Let's show our vendors that we value their presence at our conferences, whether we are face-to-face or gathered virtually!
Red Tent Room
The Red Tent Room will be a Zoom breakout room that attendees can join during the weekend. Like our normal Red Tent Rooms, we envision this as a place to socialize, take a break from the conference, and relax. It will be open when we have longer breaks from our main programming, including open "late" on Friday and Saturday nights for those who wish to keep the party going. Instructions to join Red Tent Room will be given to attendees during our conference. 
What to Expect with Our Virtual Conference
This conference will be hosted over Zoom. A day or two prior to the conference we will email registered attendees the conference meeting link. This links will "open" at least 30 minutes before our scheduled daily start time so that you can get logged on and get settled. We will ONLY send the links to registered attendees, and for the safety of all attendees, we ask that you do not share with anyone outside of your household.
We are using regular Zoom meeting links – in other words, we are NOT using the Zoom Webinar format that restricts your view to the presenter only. Our reasoning is this – we want our attendees to have that visual connection with one another, as much as we're able to in this virtual format. So we opted to use the regular Zoom meeting so that people may be able to see one another in Gallery view.
Never fear! You don't have to turn on your camera if you don't want to. However, we encourage everyone to take a little bit of time throughout the conference to browse through the Gallery view pages and see who else is attending, and maybe even show your own face!
Please note that we will be recording most sessions, and while the focus will primarily be on the presenter screen/camera view, there may occasionally be times when the gallery view is shown. If your camera is on, then your video feed may be captured in our recordings, which will be shared privately with attendees after the event. If you do not want to risk being on video, please turn off your camera.
To keep extraneous noise down, hosts and co-hosts will keep everyone but the current presenter muted at all times, unless we're in a participatory part of a session.
All attendees are encouraged to use the text chat at any time, and we will utilize this feature for some Q&A sessions and other activities.
All sessions will have a few co-hosts (the SWUUW Board!) who will be assisting presenters and handling administrative functions, such as muting/unmuting people. We reserve the right to mute, turn off camera feeds, or remove anyone from the meeting at any time if we deem any audio, video/imagery, or text chatting to be abusive, inappropriate, or persistently disruptive to the flow of the conference, presenters, meeting hosts, or other attendees.
You do not need a Zoom account to join a Zoom meeting, however, you can create an account free of charge. If you don't already have the Zoom app we encourage you to download and install it on your computer or phone prior to the conference so you can become familiar with the platform. You can join a zoom link with video from your computer or smart phone, or you can dial in from your phone without video. Please note that if you dial in, you will not have access to the text chat and that you will be muted almost all of the time.
We will be recording all of our main sessions and will put them on our website after the conference on a password protected page. At that point, we will email all registered attendees and provide them with the password to this page. So even if you have to miss a session, you'll still have access to the whole conference!
Without the need for a hotel this year, our conference costs are substantially less than in previous years. Therefore, this year we will not be offering a scholarship as we have in previous years.
In addition, we are waiving our $25 SWUUW membership fee this year, normally included in the cost of our event, in the hopes that this virtual conference is as accessible as possible to those who may wish to attend.
All of our main conference sessions will be recorded and uploaded to our website after the conference. So if you're unsure if you'll be able to attend during our live conference, you'll still have access to the sessions – including ALL workshops – after the weekend is done!
Please note that all registration fees are non-refundable. Please see our full Refund Policy for more information.
Conference Registration Fee
SWUUW 1-year Membership

Access to conference Zoom link for all live sessions

Access to Red Tent Room Zoom link

Access to recorded sessions online after conference

Early Bird discount of $5 off of regular registration price of $55 until Feb. 1